Hisn Al Fahidi Aluminum L.L.C are not only delivering our expertise to our customers and societies, but also enabling environments that will benefit them for the long term. Whether for public safety or environmental protection, together with our stakeholders Hisn Al Fahidi helps to modernize procedures, systems and institutions to build local capacities and generate sustainable outcomes beyond the project.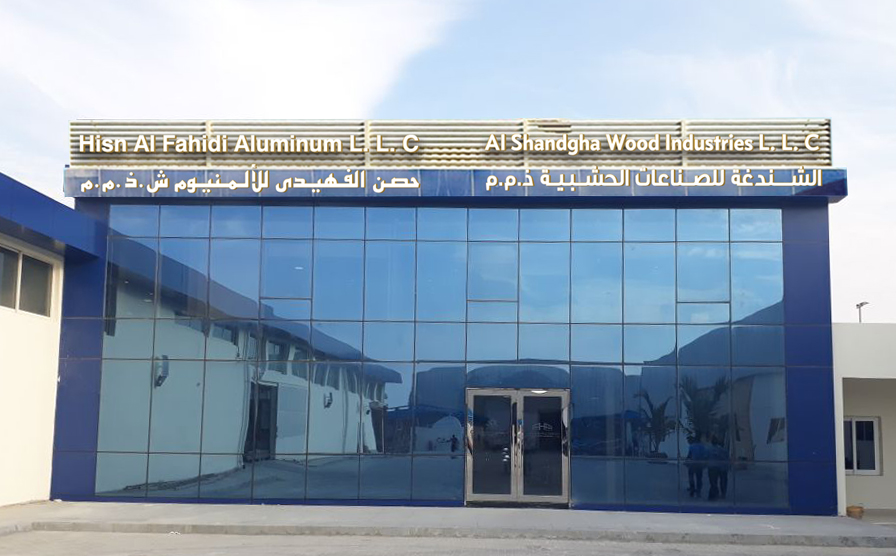 who we are

was established in 2008. Though the company is registered under the name "Hisn Al FahidiAluminium L.L.C" in November, 2016, since past 8 years the company was running as a subsidiary of M/s NarescoConttracting Co. LLC. under their Industrial licence. Over the past 8 years Hisn Al Fahidi Aluminum L.L.C has grown into a major supplier of Architectural Aluminium products throughout the emirates. Hisn Al Fahidi has a proven record of employing the skills and experience of our people to bring an engineering approach to each job.
A Hisn Al Fahidi Aluminum L.L.C is a specialist Aluminium Fabrication and installation company established with an objective of providing innovative and cost effective solutions pertaining to Aluminium&glazed structures and related elements for the Clients, Consultants and Contractors .We fabricate and install stick type of curtain walls,structural glazing,spider system facades,doors & windows,sky lights,composite claddings and handrails etc. We have an efficient team of highly experience professionals with extensive project experience in aluminium and glazed structures. Our capabilities range from engineering, design and detailing through fabrication and erectionenabling us to handle the complete project or any portion thereof. We carry out the work strictly following the specified industry standards.
Our Vision
To be the leaders in providing value-added construction process. Our vision is to establish long lasting relationships with our customers by exceeding the expectations and gaining their trust through exceptional performance.
Our Mission
To serve our customers with quality products and services to maintain satisfactory and long lasting relationship.Hisn Al Fahidi Aluminum strive to be recognized and patronized as a master in aluminum, glazing, cladding and other building metal works. We continuously strive to cop up with customer expectations and gain their trust through the utilization of innovative products and latest technology.
Our Services
Hisn Al Fahidi Aluminum L.L.Coffers a wide range of products in aluminium and glazing industry. We are capable of providing entire facility or part facility based on project requirements. Our well-equipped fabrication unit, skilled and experienced employees all help us to execute the projects with high quality and integrity at competitive cost and within the time limit.
Factory  Profile
 Hisn Al Fahidi Aluminum L.L.C is located in Al Quoz Industrial Area-1 near Al Khail Mall. Hisn Al Fahidi 's upgraded facilities are specially designed to meet clients' requirements for all types of aluminium fabrication and installation, glazing, aluminium composite cladding, railing etc. Our fabrication shop contains latest machineries and material handling equipment to support big volume of work demanding projects. We have combined skills and experience of our people–designers,engineers,fabricators and installers into cohesive smooth functioning teams guided by expert task masters. We have experienced and skilled labours to fulfill the requirement of ever increasing aluminium& glazing. We invest in their development and offer them opportunities to practice and extend their professional capabilities.
Our  Team
We currently have a strong team of over 250 dedicated performers which includes experienced managers, qualified structure designers, efficient engineers, trained draftsmen and skilled technicians who have a proven track record .The teamwork, enthusiasm and professional expertise of our people ensure that we deliver our operations and services that consistently match or exceed our clients' expectations. We take an engineering approach to every job, instituting systems and technology that ensure quality and cost efficiency.We are committed to attracting the best in the business so that clients, project partners and our people gain the advantage of having access to both seasoned experts and promising young talent. We are also committed to retaining quality people.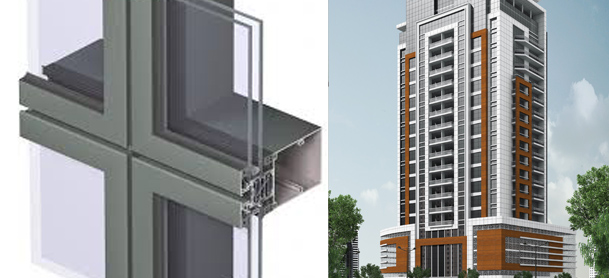 Stick TypeCurtainwall
Stick systems. The vast majority of curtain walls are installed in this way. Long pieces of aluminum (hence the name stick) are inserted between floors vertically and horizontally between vertical members to support and transfer the load of the glass back to structure. Most of the erection and glazing for a stick-built system is done on site. One of the benefits of stick-built systems is its economic friendliness for facades that have lower required volumes and many complicated conditions. The lead times for these types of systems are often much shorter for fabricated materials to be delivered to the site and allow for less up front staging.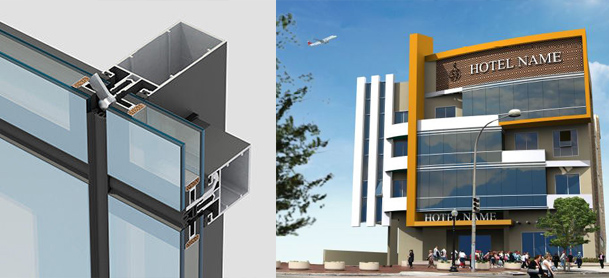 Structural GlazedCurtainwall
Structural glazing systems, in their simplest form, are types of curtain wall systems consisting of glass that is bonded or anchored back to a structure without the use of continuously gasketed aluminum pressure plates or caps. The glass can be comprised of monolithic, laminated or dual-glazed insulating glass units (IGUs). The back-up structure may use horizontal and/or vertical aluminum.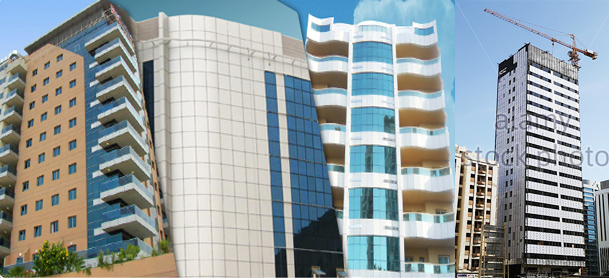 Aluminium CompositePanel Cladding
Aluminium composite panels is manufactured by multi layer extrusion lamination where two skins of non corrosive special grade Aluminum is sandwiched on to non – toxic polyethylene thermoplastic or a fire retardant mineral core. The external skin surface is available in various finishes and colours made from PVDF paint coatings. Key features of this product include; attractive designs, durability, longevity, smooth surface, high tolerance and easy installation to name a few. Aluminium composite cladding is used for exterior cladding, column covers, fascias and canopies, interior wall and partition panels, parapets and sunshades.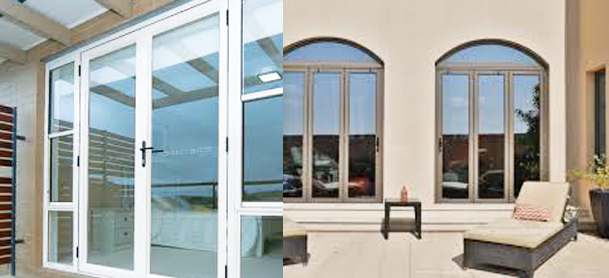 Doors and Windows
Doors and Windows.Aluminium is the strongest and most durable material, easy to clean and maintain. Quality double and triple glazed aluminium windows are therefore the most expensive choice in the window market. Aluminium windows are often used for commercial properties and retail facilities. Nevertheless, they are also extremely well suited for residential properties. High-end aluminium windows can be constructed for large glazed areas in a variety of shapes, types and configurations. Precision manufactured aluminium (extrusion) profiles can be powder-coated to your liking and design approach in every colour (pantone or RAL). High quality aluminium window frames provide good properties; their acoustic and thermal properties however are not quite comparable to PVC and timber window framing.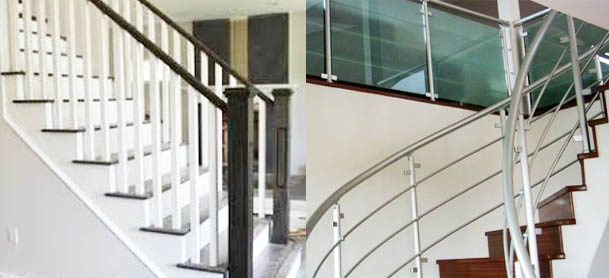 Balcony&Staircase Railings
Handrails and Balustrades are available in a wide variety like aluminium railings, stainless steel railings etc. Aluminium& Handrails and Balustrades are available in a wide variety of finishes like powder coating, kynar coating etc in an extensive choice of solid and metallic colours and even a beautiful wood-effect finish.Stainless Steel handrails and balustrades are available in Brush and Mirror finishes.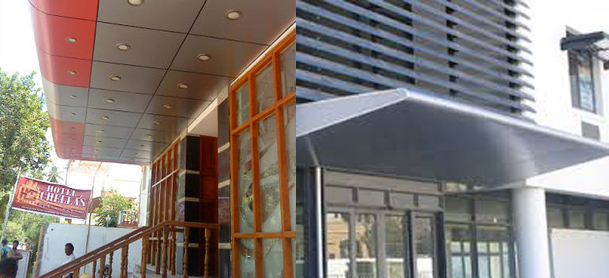 Canopies
Canopies create an esthetical difference in modern architecture as it is used at the entrance of the building or as a decorative feature in the roof. It usually consists of steel structure with aluminum cladding or steel structure with spider glazing or combination of both. The purpose of using stainless canopy systems is to avoid the natural effects of the rain and snow.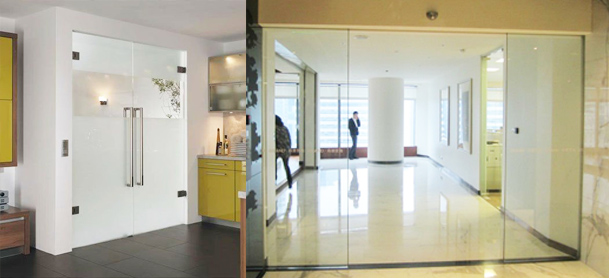 Frameless swing doors & Automatic sliding doors
The term 'structural glass' is a wide-reaching product term used to describe a frameless glass assembly where the glass is taking an element of the structural load. This structural load the glass is designed to take will depend on the location and purpose of the glass element.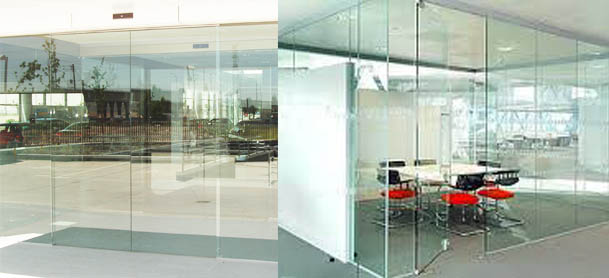 Internal Glass Partitions
Glass Partion :Transparent elegance. Glass gives your partitionwalls a high-quality appearance and creates light, open rooms. ... Without vertical support this partitionwall meets the most stringent structural performance criteria.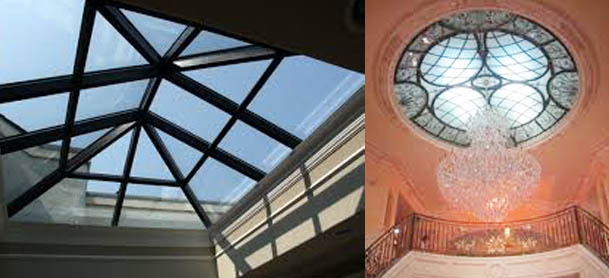 Skylight & Dome
Skylights are widely used in designing daylighting for residential, public, and commercial buildings. Increased daylighting can result in less electrical lighting use and smaller sized window glazing (sidelighting), saving energy, lowering costs, and reducing environmental impacts.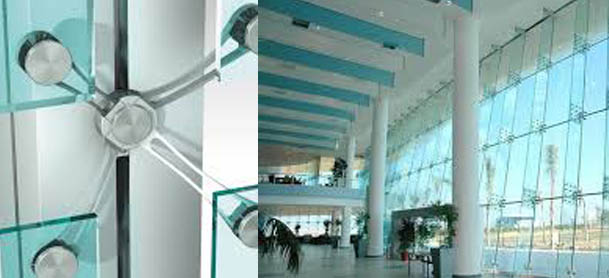 Spider glazing & Point fixing
SPIDERGLASS is a modern solution for exterior bolted glass assemblies, which secures the glazing to a support structure by means of point-fixings. The high-grade stainless steel fixings are designed to absorb all static and dynamic loads (i.e. the dead weight of the glass, wind loading, snow loads and differential expansion due to temperature difference) and distribute them to the support structure.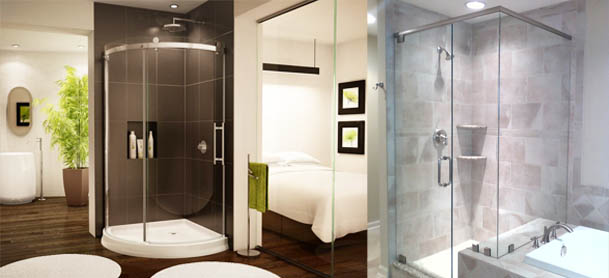 ShowerCubicle
Glass shower doors are fast turning out to be very popular choice when it comes todesigning a smart, sleek and functional contemporary bathroom that fits in seamlessly with the modern theme of the rest of the home.Your bathroom is a space to relax and rejuvenate, and a great shower can help you do that. Even better when every detail fits the style you want, including the shower door.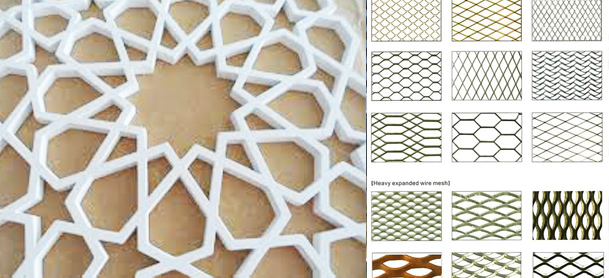 DecorativeWork
Decorative work comprises aluminium decorative screen, mashrabiya, cast aluminiummashrabiya, cast aluminium decorative gates, grills, decorative aluminium expandable mesh etc. which can be used for residential and commercial projects which can be taken from concept through to completion. Decorative metal can be defined as metal that provides architectural decoration but has no structural value. Metal can be formed into countless shapes while still retaining many advantageous properties. A wide variety of metals and alloys can be used, including aluminum, cast aluminiumetc
Safety Procedures
At HISNAL FAHIDI ALUMINIUM, we take into consideration not only the interest of our clients and suppliers, but our employees.  We use equipment of the highest standards in safety whereby all  our employees at sites and production plant are highly equipped.
It is also our policy to make sure that all types of safety equipment are a available for our employees safety such as the use of straps while using cradles or exterior work.  The use of earplugs while operating high noise machinery is a requirement at the production plant.  First aid gear is always provided at project  sites and workshop. 
These are just a few steps we take into securing the health and safety of our employees.  All our employees at the production plant are trained to use the equipment properly.  Following are the summarized list of items used as safety measures at Hisn Al FahidiAluminium.
Protective wear, Ear Plugs, Straps, Safety Shoes, Gloves, Helmets, Welding Apron, Goggles, Dust Masks, Fire extinguishers, First Aid Kit.
Health Policy
It is Al Fahidi's policy to take all practicable steps to ensure the health and safety of all persons on site and to prevent damage to property, equipment and the environment. Al Fahidi is responsible for implementing the health, safety and environmental measures necessary to ensure the well being of all persons at work sites, including employees as well as other members of the public. This is a Process of continuous improvement and relies primarily on the systemic identification assessment and control of hazards and risks, underpinned by awareness of the relative legislative requirements.
All managers and supervisors will understand their specific responsibilities for health and safety within their departments and will ensure that the adequate health and safety facilities are available and that the relevant safety requirements are known and adhere to at all times by employees under their supervision. It is the duty and responsibility of all Managers, Supervisors and individuals to make the work place as safe as possible. Al Fahidi will maintain an open and effective system of HSE communications to achieve an uninterrupted flow of information throughout the organization, from senior management to each individual employee.